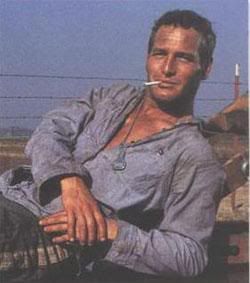 Legendary actor
Paul Newman passed away
at the age of 83 after a battle with cancer. Newman became a star in the 1950's and never lost his popularity. He appeared in several classic movies like "Cool Hand Luke", "The Hustler", "Butch
Cassidy
and the
Sundance
Kid," and "The Sting." He won his first Oscar in "The Color of Money," a sequel to "The Hustler." He is survived by his long time wife, Joanne Woodward, and five children.
Newman became active in auto racing after playing a driver in the movie "Winning." He participated in the 24 Hours of Dayton at the age of 70 and continued racing into his 80's.
Newman was also well known for his
philanthropic
activities. In 1982, he and a friend founded
Newman's Own
, which has grown into a hugely successful natural and organic food manufacturer. All of the profits from that company go to his charitable foundation to support his charitable causes.
A few years back, my father in law was introduced to Paul Newman in Florida. Newman was looking for a fishing charter, and the marina recommended my father in law. They were able to go out fishing on a couple of
occasions
. As a thank you, Newman sent a ham to my in laws which we had for a holiday dinner. The world lost a great entertainer and a true gentleman.