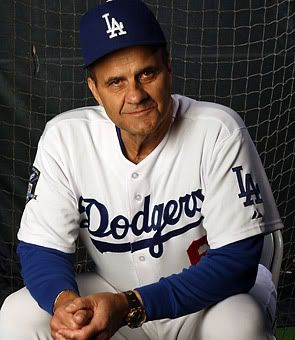 I have always hated the NY Yankees. When my Washington Senators left town, I eventually adopted the Baltimore Orioles as my favorite team. That is until the Montreal Expos became the Washington Nationals.
While I have always hated the Yankees, I have always respected
Joe Torre
and his demeanor while in NY. Joe always exhibited a lot of class. In 1996, his first year as manager of the Yankees, Torre led the Bronx Bombers to their first World Series title in 15 years. They missed making the World Series the next year, but then picked up three straight titles.
During the remainder of his 12 year career, Torre and the Yanks wouldn't win another World Series. They would make the Series in 2001 and 2003, but ended up losing. In the last four years of Torre's tenure with NY, they would make the playoffs each year, but fall short of making the World Series. With each elimnination in the playoffs, the speculation began on whether or not he would be fired. Finally, after the end of the 2007 season, the Yanks offered Torre a contract with a paycut with incentives and bonus incentives for each post season series the team won. Torre turned it down.
That is why I take pleasure in the fate of the Yankees in 2008. Torre moved on to manage the LA Dodgers, and Joe Girardi took the helm in NY. During all 12 of Torre's seasons as manager, the Yanks made the post season every year. This year, they failed to make the postseason. Meanwhile, out on the left coast, Torre and his Dodgers have won the first three games of their playoff series against the Chicago Cubs. Nothing against Joe Girardi, but it serves NY right for getting rid of a class act who did nothing but get the most out of his team, and did it with class.