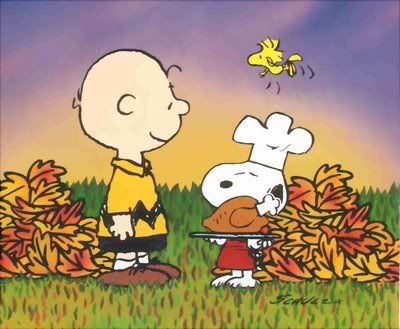 Last night, as I was browsing around YouTube to try to find something cute or funny to use for my Thanksgiving post, it occurred to me that Thanksgiving has become just another holiday that has lost it's original meaning. Thanksgiving originally was a time to celebrate the harvest and to give thanks to God for the harvest and for continuing to sustain us. We continue to have a feast to commemorate Thanksgiving, but it has come to mean a lot of other things: a four day weekend for a lot of people, football, and the start of the Christmas shopping season (speaking of holidays that have lost their original meanings.) Not that there is anything inherently wrong with any of these things, but they do not remind of us the true meaning of the holiday.
So, instead of something funny or cute, I decided to reflect on the true meaning of Thanksgiving and post some of the things that I am truly thankful for.
My son, who I love more than I ever thought I could love someone and has taught me a lot of valuable lessons about enjoying the moment, which I need to be reminded of more than I care to admit.
My wife, who frequently thinks of little things that she knows I would enjoy, like the two pumpkin donuts I had for breakfast this morning.
My family and friends, for being there with their love, advice, and support, both emotionally and financially, during tough times.
My country, which in spite of her flaws is still the greatest place to live and provides us with a standard of living that is the envy of the world.
So this year, when you are gathered around the table stuffing yourself with stuffing and the rest of the bountiful feast, look around you, enjoy the moment, think about all you have, and truly give thanks. Have a very happy Thanksgiving.