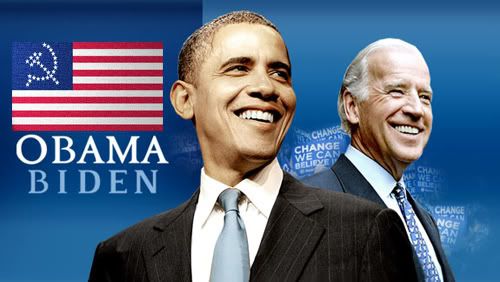 I hope I am wrong, but I can't shake the feeling that we are quickly headed to becoming the United Socialist States of America (if we haven't already gotten there with all of our bailouts). We are on the verge of electing the most liberal senator in the Senate and the least experienced candidate in history to the office of President of the United States. Combine that with Democrat control of the House under Nancy Pelosi and the Senate with Harry Reid and you have the potential for the federal government to grow beyond its already enormous reach.
We have a candidate that believes the Constitution is a flawed document that reflects the fundamental flaw of this country that exists to this day. He also has been quoted that he would not appoint justices to the Supreme Court who adhere to a literal interpretation of the Constitution. Yet we are to believe him when he takes the oath of office and promises to "defend and uphold the Constitution of the United States."
The Democrats believe they know what is best for all of us. Government is the answer to everything. The more we rely on government, the more they control us. The more they control us, the more power they get and the less freedom we have. Our founding fathers deliberately framed the Constitution to limit the power of the federal government. That is why we fought the Revolutionary War for our freedom, to escape an oppressive government and high taxes.
The Republicans have brought this on themselves by abandoning the conservative roots of Ronald Reagan. Though I am registered as a Republican, I don't think of myself as a Republican. I consider myself more of a
Libertarian
than a Republican, but unfortunately under our current system, there is little chance of a Libertarian having a chance at making a serious run at the Presidency. Until that day, I will remain a registered Republican, because they are closer than the Democrats to my beliefs. Maybe this will be a wake up call to the Republicans to return to the fiscally conservative ways of Ronald Reagan.