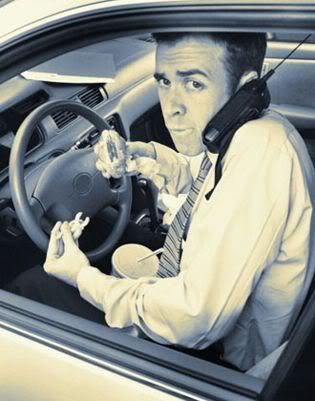 Being a
Libertarian
, I am not usually a proponent of laws that restrict our freedom.  I have never been a proponent of the mandatory hands free device laws that single out cell phone users as opposed to other forms of driver distraction.  I mean is talking on the phone any more hazardous than the lady in the next lane putting on her eye makeup or the guy chowing down on a Big Mac?  
Part of the reason I am against those laws is that I just haven't been able to find a hands free device that works for me.  What is the point of having it if I have to hold the damn thing to my ear to hear what the other person is saying?  That's no different than if I had the cell to my ear.  At least then I would be able to hear the other person.  But I digress.
Today is one of those days when I can somewhat understand why these laws are getting enacted (so far the Democrats in Maryland have been unable to pass a law here, but it isn't from lack of trying).  On two occasions today I got caught behind drivers that were driving in the left hand lane traveling at least 10 miles per hour beneath the speed limit (there are states that will ticket a driver for driving too slow.)  When I finally was able to pass those drivers, sure enough, they were sitting there with the cell phone held up to their ear.
I still do not like the thought of an outright ban of handheld cell phone use while driving.  If you want to make it a secondary violation (along with other forms of driver distraction) that can draw an additional fine when pulled over for speeding or other violations, then I have no problem with that.  For those drivers that live in states where it is not a violation, if you can not talk on the phone and maintain a safe driving speed then get out of the way.