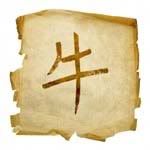 The Chinese have rung in their new year.  It is now the Year of the Ox, which
coincidentally
, is the same as my Chinese Zodiac sign.  I hope that means it is going to be a good year for me.
According to my Chinese horoscope at this
website
, this is what I can expect in the coming year:
You may have been disappointed by a relatively modest 2008, but as your sign enters the heaven, the groundwork you laid should start paying off in 2009. Don't expect fireworks, but success should arrive both in your family life and in business. This is a great year to achieve personal ambitions as well as take action on major decisions. You'll find both family and friends supportive of new plans.