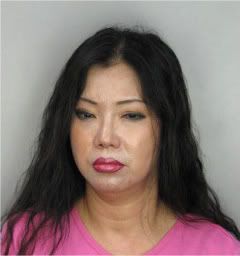 Last August, I shared the story of a massage parlor worker from Colorado with the name of
Mi Sook Yoo
who was arrested in a prostitution raid. Her name was a source of mild amusement on my part due to the charges she faced. Well lightning has struck again.
This time, the incident took place in Tampa, FL at the Innerscent spa. The woman pictured in the adjacent mug shot was
charged with two counts of prostitution
and two counts of practicing massage without a license. In their arresting affidavits, the officers say she offered to perform oral sex on them at the end of the massage for a fee of $150. Her name; Ho Suk Kim.