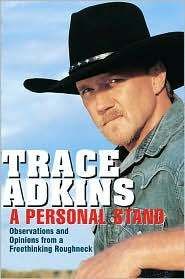 About a year ago, I was watching the Glenn Beck show before he moved over to the Fox News Channel.  One Friday night, his guest for the whole hour was country music star Trace Adkins.  Being a fan of both Glenn and Trace, I stayed tuned for the whole hour. 
It was not your garden variety, celebrity interview.  Sure they touched on Trace's musical career, but for the most part they discussed Trace's views on news and politics.  Trace was a straight talking, no nonsense man.  I found myself in agreement with a lot of his views.

Fast forward to last night, when I was browsing around the local Barnes & Noble.  I was looking in the current affairs section of the store when I spotted "A Personal Stand" by Trace.  I was not aware that he had written a book, so I flipped through the chapters and quotes on the back of the book.  Since the book was in paperback, I decided to go ahead and make the purchase.
When I read the introduction to the book, I knew I was going to enjoy reading it.  In the second paragraph Trace writes the following:  
"I stand for personal responsibility and against anything undermines it.  So much of what I see in our country today represents a hell-bent flight from responsibility to

victimhood

.  From acting on one's convictions  to going along just to get along.   From making decisions based on moral principals to taking the easy way out.  That's not what the United States is about, and that's not the legacy our children should inherit."
 I could not agree more.
Throughout the book, Trace uses stories from his life to share his views on 9/11, energy, illegal immigration and more.  Like his appearance on the Glenn Beck Show that night, he writes in a straight forward, no nonsense style, interjected with a wry sense of humor.  As a writer, he isn't going to make anyone forget the great writers of the world.  Hell, he may not even make you forget the ordinary ones.  However, if you are a fan of Trace Adkins, and your political views tend to lean towards the right, I think you will enjoy the book.  I know I did.