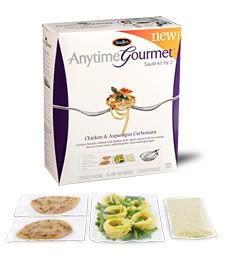 One of my previous positions was the category manager of frozen food for the local division of a national supermarket chain. One of my responsibilities was to decide what products the stores in my area would carry. Over the years I got to see a lot of cool products, no pun intended. Even though I have not been involved in frozen food professionally for some time, I still like to see the wide variety of new items available. Frozen foods have come a long way.
When both my wife and I worked full time jobs, we had an agreement that I would cook on the weekends. For some reason that I can not understand, that tradition continues on Sundays in my house, even though I work two jobs and my wife doesn't work. No matter.
Today was my day to cook. At first I was going to do something fairly simple like soup and salad, but I had a coupon for $2.50 off of any variety of Stouffer's new
Anytime Gourmet
kits. I decided on the Chicken & Asparagus Carbonara. The box describes the dish as "Chicken breasts seasoned with Italian-style spices and served in a smoky bacon cream sauce with linguine, peas, and asparagus." As you can see in the picture, it comes as a kit with each part of the meal in individual pouches.
When I opened the pouch containing the two boneless chicken breasts, I could really smell the seasoning. The first step is to saute the chicken until it is done. You then remove the chicken and set it aside under aluminum foil to keep it warm. Next you heat up the sauce briefly and add the pasta and vegetable pouch. Pretty simple really. All in all, the total cooking time was about 15 minutes.
I have to say that the flavor was fantastic. The pieces of asparagus were a pretty nice size and very tender. The seasoning on the chicken and the flavor of the sauce were spot on, not too mild and not too overpowering. That was the good. Now for the not so good. I did not feel that the kit came with enough sauce. There was no additional sauce to pour on the chicken breasts or pasta. The only other complaint that I might have is that there really wasn't enough food for a stand alone meal. Next time, I will have to add a salad or something.