This is a Sponsored Post written by me on behalf of BAM Racing. All opinions are 100% mine.
Two of my favorite things in my relaxation time are music and sports. You may have noticed in a lot of my Music Monday posts, that I am partial to Country Music. Over the last four years or so, I have really gotten into NASCAR racing. So much so, that at least for television viewing, it has become a close second to football for my favorite sports. I have yet to see a live NASCAR race, but I hope to soon.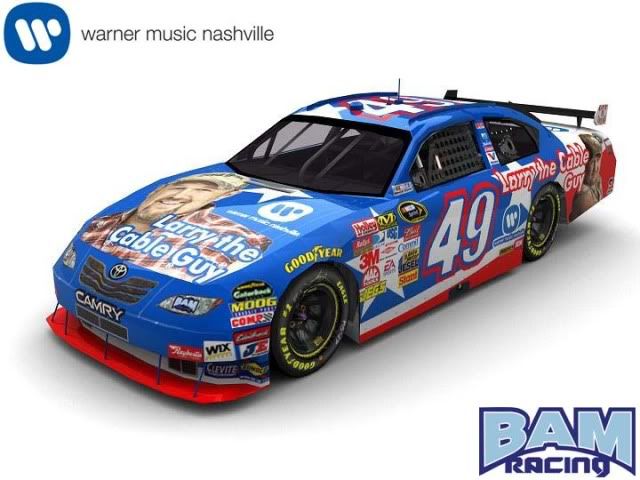 BAM Racing
has come up with a way to combine NASCAR racing with Country music, a winning combination in my opinion. They are teaming up with Warner Nashville Music to create a unique
VIP Fan Experience
. As a VIP, your name and photo will appear on the #49 BAM Racing Sprint Cup Car along with one of the WNM stars participating in the program. Among the stars already signed up are Larry the Cable Guy, Blake Shelton (one of my favorites), James Otto (one of my son's favorites), and Jessica Harp.
(In my best infomercial announcer voice) "But Wait! There's More!" VIP's also have the opportunity to get backstage access at concerts, music video shoots, and maybe the ultimate opporunity for a NASCAR fan, an all access NASCAR weekend including sitting on top of the pit box with the owner at a Sprint Cup Race. How cool would that be? There are a bunch of other perks for VIP that you can check out at
VIP Fan Experience
.
BAM racing also announced this week that they have formed an alliance with Robby Gordon Motorsports. This will give them more resources to field a competitive car each week. Beginning February 6th, Speed Week kicks off the 2010 Sprint Cup Season with the Daytona Shootout. Speed Week ends with the biggest race of the season, the Daytona 500. I can hardly wait.