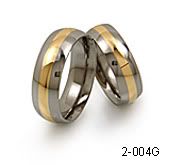 My wife is crazy about jewelry, perhaps too much so. Whenever she heads out to the mall, she invariably has to stop in at all the jewelry stores to see the latest product offerings. Unfortunately, she often has very expensive taste. With the price of gold and diamonds today, it has become even more cost prohibitive to shop for jewelry.
It disappoints me that I am unable to get her those types of things that she likes. I am sure it disappoints her as well. Often, I wonder why she puts herself through going visiting those jewelery stores when she knows that we cannot afford to buy those types of luxuries. I know it would drive me crazy which is one reason I do not frequent expensive electronics stores any more.
That is not to say that you can't find affordable and fashionable jewelry out there. I remember one years my wife wanted to get a solid
black tungsten wedding band
. I was able to get her a nice one for under $100. In addition to alternatives like tungsten, you can find affordable
titanium ring design
s and titanium bracelets.,
Coming up very shortly is my wife's birthday and our anniversary (they happen to be on the same day) followed up quickly by Christmas. My wife has already started dropping hings for gift ideas, most of which are out of my budget. One day, I found a magazine clipping of a ring she wanted tucked into my wallet. So I have started my quest for affordable options.